3 Ridiculously Easy Ways To Generate A Steady Flow Of Qualified Leads Fast
If you have or manage a sales team in a call center you likely need a steady flow of qualified leads to feed your sales team. If you're not leveraging a lead generation team, you're missing out on millions in potential revenue.
Here are the 3 surprisingly simple ways to generate a steady flow of qualified leads fast… 
1. Pay for performance
2. Reduce the time it takes to develop a marketing plan
3. Repeat what works
When it comes to gaining a steady flow of qualified leads for your national financial services company you have one main goal… find and leverage the fastest way possible to bring in more revenue.
So what about SEO, blogging and posting on social media?
Yes of course this works… and if you want to wait months or even years for it to generate a return on your investment, go for it!
Your main job is to help as many of your clients succeed as possible but you can only do that if you're also speaking to your ideal customers daily.  The fastest way for this to happen is via leveraging paid advertising (that's highly targeted) to attract your ideal customer… first.
Why I'm a PPC convert
I've worked with a multi-billion dollar advertising organization and have spoken with hundreds of business owners.  My goal was to get them to advertise in one (but hopefully more) of our print publications.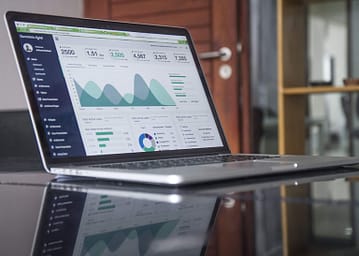 What was frustrating and also sad about this process was is that I knew their campaigns would only serve as a way to brand their company rather than bring them an immediate return on their investment.
What's worse is that they'd cough up tens of thousands of dollars for 3 or 4 spots in these magazines. I wish I could tell you how much of a return that brought them… but I have no idea!
That's f*cking scary, right?!
If you're a business owner or in charge of sales and marketing for a national or global organization, which would you prefer…
Paying for ad impressions or placement in print publications (that cannot guarantee your message will hit the right people)?
Or paying for each lead that enters your sales team's CRM?
The answer seems obvious and more and more business owners are recognizing the power of using lead generation agencies instead (or in addition to marketing teams) because:
They work on a performance basis only (charging per lead)
They do not charge a retainer fee
They provide you with a stream of HIGHLY-QUALIFIED leads (based on your specifications and requirements)
Remove the need for you to wait for a marketing or ad agency to setup and coordinate projects with multiple departments in your company.
One phone call is all you need to get started with a lead gen agency.
Why is it smarter to pay per lead?
Paying for each lead is wise because you avoid paying setup costs and retainer fees. When you remove these expenses and pay only for what you receive, your ROI soars through the roof. Not only that, but the speed of your return is lightening fast… you'll see results with a lead agency much faster… in days instead of weeks or months.
Doesn't my marketing team already do this?
If you've read this far, it's clear we can help you. You're likely wondering "well, isn't this what I'm paying my marketing team to do?". It's probable, but not likely. What I've noticed when speaking with marketing directors and their staff is that they're limited to what they can do and often stuck.
It's not totally their fault.
Why some marketing agencies fail
They're hired to do a job and at some point during that time one or more of their campaigns will fail (it happens). Slowly their budgets are squeezed and pinched off from their department, which limits their effectiveness.  At this point increasing their budget isn't necessarily the answer. Here's why…
Marketing agencies are focused on branding and helping you become a household name. This is great at some point. On the other hand, your company needs customers daily… if you have a sales team, they need leads. Good leads that translate into dollars.
Difference between marketing and lead generation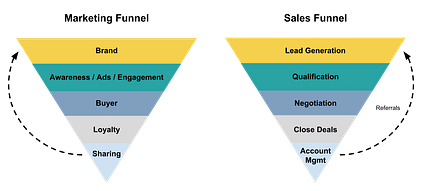 Can you see how there's a difference in the overall objective between marketing and lead generation? The focus is in two different places. And they don't mix well.
Should you ditch your marketing team? Hell no. That's not what I'm say. I'm simply saying avoid confusing the two. If you're looking for leads, connect with a proper lead generation agency that works within your industry.
The true science behind lead generation
There is a science and art to generating the right leads for your business. It's will require a blend of understanding your company's mission, who your service or product benefits most and tailoring your message to impact your prospective client in a way that compels them to buy from you.
When you are speaking with a lead generation coordinator, together you'll map out your buyer's journey to ensure there's a seamless alignment between you and the lead agency.
Why sales funnels aren't enough
Some call me a sales funnel nerd. And it's true… I could spend every waking minute building and optimizing sales funnels however, that might be counter productive. Think about it.
Where does your marketing team spend the majority of their time?
If they think the way I do, you'll probably find them huddled over spreadsheets in arms reach of neatly organized whiteboards with headlines and sticky notes. Why? 'cause it's the headline and content that matter most for your ads.
BUT WAIT, there's more…
Not only are the headline and content important, it's the sequence of said info that's key. For example. We're use to seeing an ad that goes straight to an opt-in page. It's simple, traditional and effective.
Yet, if you want to take your sales to the next level, which you wouldn't be here if you didn't, there's another component you'll want to add.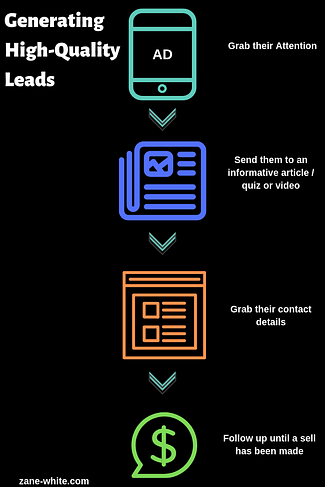 It's similar to the way Gary Vee gave us "Jab, Jab, Jab Right Hook…."
What you'll do is create your ad, send your prospective customer to a detailed yet educational article, video or quiz and then knock the hell out of them with your magnetic call to action.
Within minutes they're filling out all of their details and prepared to accept a call from your dynamic sales team… It's that easy.
How likely would you become a customer after being showered with amazing imagery and captivating language that informed you of how to save money or protect your family better?
Load times count more than looks
How fast do your landing pages load? Use Google's PageSpeed Insights to test your website and landing pages. Ideally your site and relevant landing pages will load under 2 seconds. Beyond two seconds and your new potential customer is hitting the back button faster than the Road Runner speeding away from the Coyote.
Putting it all together
Fast paced business environments require smart and agile partners who are prepared to meet their needs. When you have call centers that want to maximize their efficiency and scale, one of the fastest ways is to maintain a steady stream of high-quality leads to its demanding sales team. With more leads, come more contact and closing rates.
What are the next steps?
In summary, working with a lead generation company will help your sales team:
Speak with more of their preferred customers
Improve their contact rates
Increase their closing ratios
… if this sounds like something they need, see if your team qualifies. Watch this 15-minute free training first! https://zane-white.com/free-training